Where did Forklifts start? Forklifts are probably one of the most common pieces of Materials Handling Equipment used around the world. The Forklift Truck can be found in almost every warehouse and has been around for nearly a century.
A Forklift Truck is a powered truck used to lift and transport materials, and is an irreplaceable part of manufacturing and warehouse operations. In this century of development have come the changes that have led to today's modern Forklifts.
---
Where Did Forklifts Start? The Early Adaptations…
The very first Forklift Trucks started off as a 2-wheeled hand truck. This eventually became a 4-wheeled luggage wagon, which was often used by the railways. In 1906, the battery-powered truck was developed to help move luggage around at train stations.
When World War I began, it saw the development of numerous types of Materials Handling Equipment due to lack of manpower. This included a bomb handling crane with a power lifting mechanism, or what we would refer to as the first Electric Forklift Truck.
---
Further Improvements…
After the First World War during the 1920s, many companies saw the benefits of powered lift machines. They saw potential in producing and selling them to other businesses, which lead to more specialised machines and the development of the standardised pallet in the 1930s.
World War II helped to make the Forklift an essential piece of equipment for loading of ships and trucks for the army, and put an end to manual handling of heavy materials in the process.
---
New Heights Reached…
After the war, and for the next 20 years after that, the development of the Forklift Truck advanced rapidly, with battery powered Forklifts becoming more common. With a focus now on Forklift manoeuvrability and reach height, warehouses began to expand upwards.
This led to the development of a newly designed Counterbalanced Truck, producing the first Reach Truck. It also saw the creation of new types of Forklifts, designed to work in narrow aisles and lift higher than ever before.
Not only this, but due to the expansion of the different types of machines, improvements were brought in for electric controls. Enhanced safety regulations were also introduced to improve warehouse standards.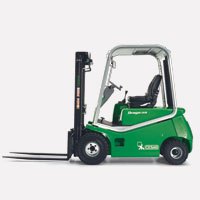 ---
Future Developments…
The Forklift Truck market is constantly changing and updating. With more environmental issues becoming a concern for many, improved engines and versatile options to suit your needs are now available. Whether you're looking for a Forklift that can be powered by petrol, diesel, battery, or gas, or even a hybrid that runs on diesel and a lithium-ion battery, there is plenty to choose from.
There are already plans to look into hydrogen fuel cells as a source of power too. Forklifts have come a long way since the early models, now without a chain or winch in sight, and they have become an indispensable piece of equipment, driven by increasing technology.
It will be interesting to see what the future will hold in the way of evolution for the Forklift Truck…
---
Get In Touch…
Call 0117 938 2012 or contact us through our online enquiry form.